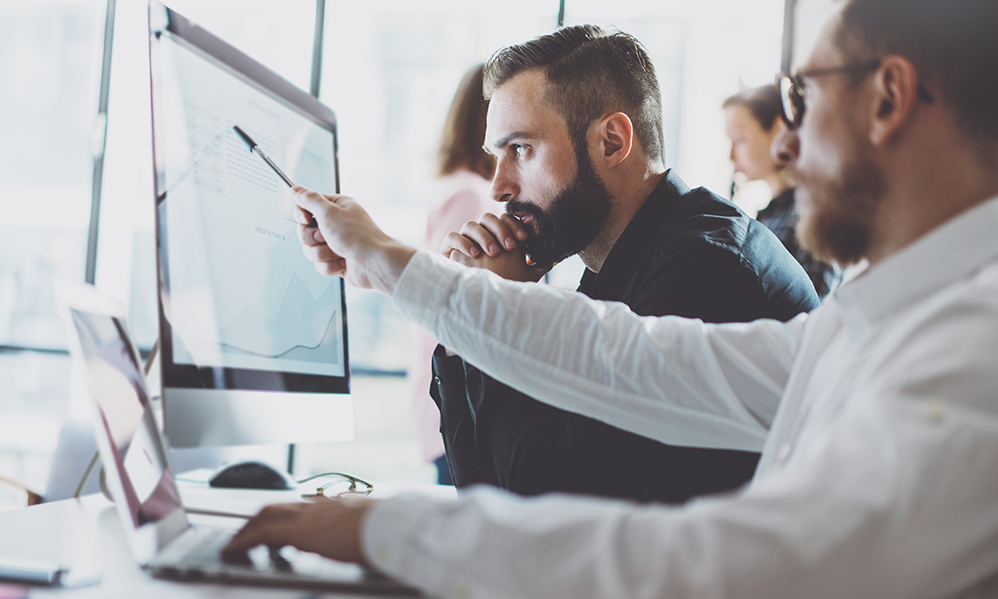 The advances in technology over the past 20 years have significantly impacted the way accountancy is practised; gone are the days of paper ledgers, calculators, and shoeboxes of receipts (well, hopefully!). Accounting software, technology and automation can be incredibly helpful in helping firms streamline their processes, attract customers and enable growth. However, it's also the case that there are so many options out there it can be difficult to know where to start. 
When considering investing in new technology, be clear on what you want it to achieve – will it improve the employee or customer experience, save time, reduce costs or enhance revenues, or help you be more agile and responsive to changing markets and needs? If it does any of these things, it will help your business grow and likely be a useful investment.
How technology can support business growth
The right technology has a crucial role to play in helping small businesses to grow and in a way that ensures clients continue to receive the service and experience they've come to expect.
One area in which technology can particularly help is with decision making, by investing in tools that enable you to see an accurate picture of where your firm is in real-time, how the financials are looking, or whether client numbers are growing or declining. Is now the time to expand an office, embark on a new marketing campaign or hire new additions to the team? The right technology can give you the information you need to decide. 
In fact, becoming more agile is another benefit of technology and automation. Being responsive to change and remaining current, whether in the services you provide or how you provide them, will enable you to meet clients' needs better. This, in turn, should lead to more satisfied customers and therefore more profit. Technology can also help the bottom line by automating business processes such as communications or customer service activities. This allows you to focus on those tasks that will drive business growth rather than become bogged down in admin.
Technology's role in the security landscape also shouldn't be overlooked. Ensuring client data is safe and secure is essential to any firm's reputation, and few would survive a serious data breach, so make sure your digital systems are fully protected. 
Five tools to support your business
When it comes to investing in technology and automation, there are five key solution areas in which it can have a huge impact.
Communication and collaboration tools
As we've particularly seen over the past 12 months or so, being able to communicate effectively with clients and colleagues when we're not in the same room is essential. Having an easy to use, flexible platform such as Microsoft Teams, Cisco Webex or Zoom makes it much easier for people within your business to chat, call and share files. As well as making it easier to keep in touch with clients, this also helps to improve communications between colleagues, meaning everyone is aware of key priorities and areas of focus. Not only that, but depending on the package you have, these platforms could act as a valuable marketing tool, helping you to host webinars to attract new clients or virtual meets between existing ones.
Project Management solutions
Project management tools can be of huge benefit to accountancy firms, providing a clear, accurate view of specific projects or client accounts. Utilising project management software allows colleagues to set goals, track progress, manage schedules and identify delays, even when working across multiple projects with multiple people.
Popular options for smaller businesses include Asana, ClickUp and Trello, all of which offer free options, depending on your needs. Whichever you choose, look for intuitive, easy to use platforms that allow you to assign tasks, set deadlines, search, share information and chat for ultimate user uptake.   
Accountancy software
Having the right financial software is key for any firm, and your chosen solution should benefit both you and your clients in terms of ease of use and accessibility.
An intuitive user interface that offers a way for clients to communicate with your firm is essential, as is the ability for both parties to view and share documents in real-time from any location. This will help to drive your firm's efficiency and ensure clients always receive the best possible service.
Customer relationship management software
Customer relationship management (CRM) technology is used to manage interactions with clients and potential clients to ensure that they always enjoy a positive experience. By digitising this, customer service will be more accurate and effective, helping to build client loyalty. Hubspot and Salesforce are two well-respected tools in this area. Hubspot, for example, can be useful for accountants as it lets you set up as many user-defined fields as you need. This could include VAT registration details, company year-end and other tailored fields that will help you to better meet that client's needs. It also enables anyone in the firm to view all information on the client, meaning they will enjoy a more personalised and streamlined service across all touchpoints.
Cloud storage
Opting to store company data and applications on remote servers and accessing them via the internet, as opposed to on office servers, can be a great way to improve efficiencies, giving you easy access to your data wherever you have an internet connection, regardless of device. Again, there are free options to get you started but expect to pay at least a few pounds a month depending on how much storage you need. Options here include OneDrive, DropBox and iCloud.
Conclusion 
These are just some of the ways in which accountancy practices can automate and streamline their offering. In order to identify which are right for your firm, first look at your current processes and see where there are concerns, delays or barriers to growth. All of these can be overcome with the right technology, and it'll likely have the added benefit of improving the customer experience too.
---
Further Reading
How to Register as a Sole Trader
How to Manage VAT in AccountsPortal